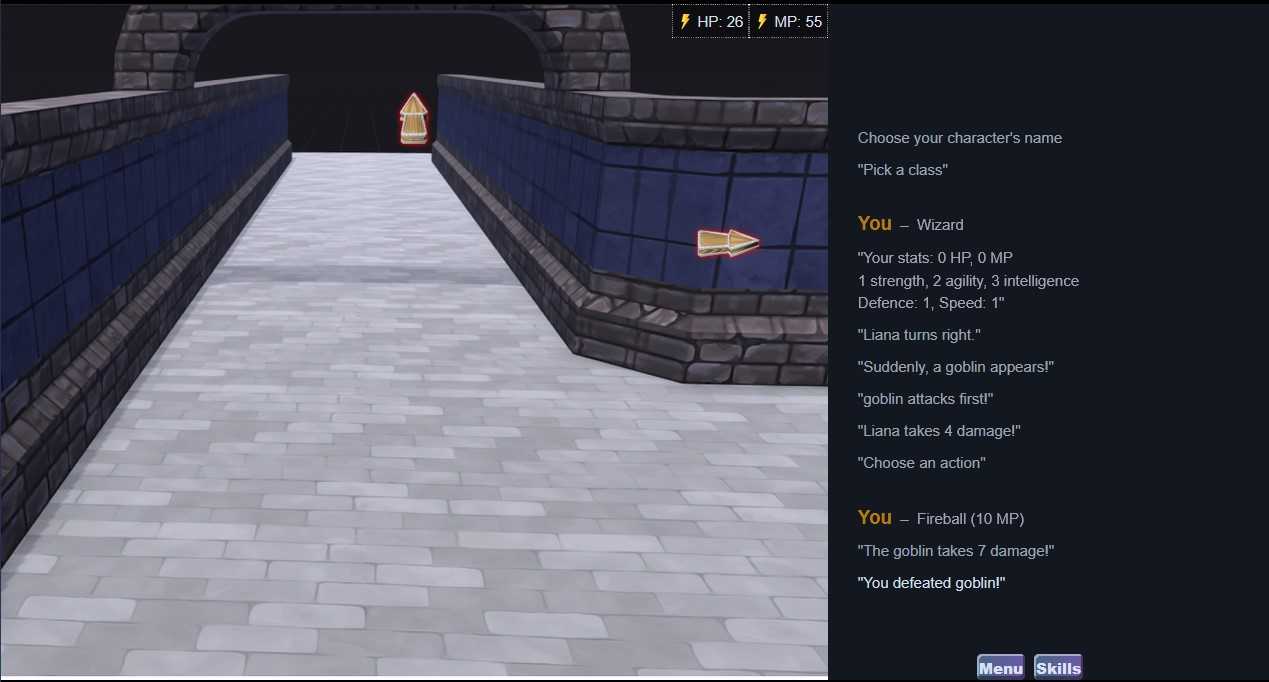 RPG demo in narrat with dungeon crawler and turn based combat elements
Liana P
Published on June 16, 2022
I built an RPG dungeon crawler demo for narrat as a way to test the engine and push the new recently added syntax improvements. It's a pretty simple demo (about 200 lines of script) but involves picking a class, crawling through a dungeon and turn-based battles with random monsters.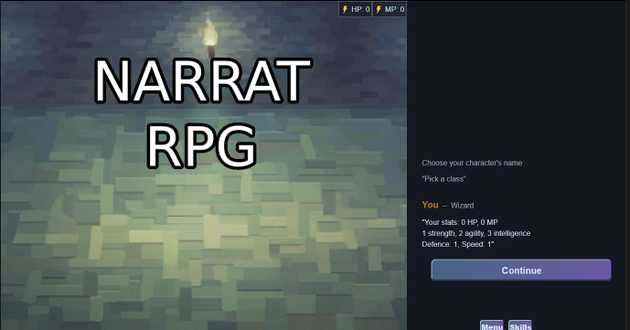 What the demo looks like
While making this demo, I found a few bugs to fix and added a lot of new commands to the scripting language (especially commands related to maths, see 2.1.0 news). Overall, making this demo has confirmed to me that it's possible to write programs that use more complex logic than your average simple branching narrative.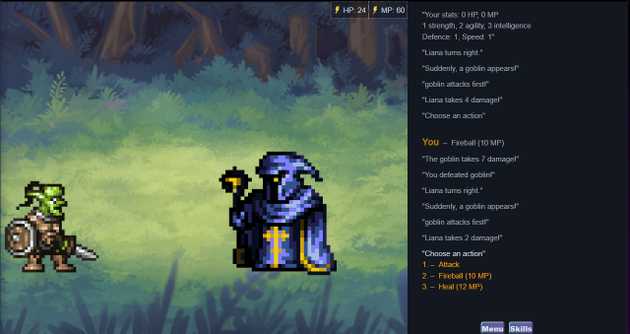 New examples system in the narrat repo
While making that demo, I also refactored the repo to be able to easily contain multiple example games and run each of them via environment variables. There is now an examples folder in the narrat repo with al the example/testing games.
Each example game can be run (or built) directly from the narrat repo, which makes it convenient to keep demos updated
The demo
You can play this demo and others at the narrat demos page.
The script
Here's the full script for the demo:
main

:


  set_screen rpg
  run setup_variables

setup_variables

:


  

set

 spells

.

fireball

.

cost 

10


  

set

 spells

.

whirlwind

.

cost 

3


  

set

 spells

.

heal

.

cost 

12



restart_character

:


  set_stat hp 

$

player

.

maxHp
  set_stat mp 

$

player

.

maxMp
  

set

 victories 

0



setup_character

:


  set_stat hp 

0


  set_stat mp 

0


  

set

 player

.

name

 

""


  

set

 player

.

def

 

0


  

set

 player

.

name

 

(

text_field 

"Choose your character's name"

)


  

set

 best_victories 

0




setup_rpg

:


  set_button startGame hidden
  run setup_character
  run choose_class
  run start_rpg

start_rpg

:


  run restart_character
  run enter_new_room

enter_new_room

:


  

play

 

music

 game
  

set

 pattern 

(

run random_pattern

)


  run show_room
  set_button go_left 

true


  set_button go_right 

true


  set_button go_front 

true



process_room

:


  

if

 

(

==

 

$

randomChance 

1

)

:


    

"The room is empty."


  

else

:


    run random_battle

enter_and_process_room

:


  run enter_new_room
  run process_room

show_room

:


  set_screen 

(

concat 

"dungeon_"

 

$

pattern

)



choose_left

:


  

set

 player

.

direction 

left


  

jump

 go_direction
choose_right

:


  

set

 player

.

direction 

right


  

jump

 go_direction
choose_front

:


  

set

 player

.

direction front
  

jump

 go_direction

go_direction

:


  set_button go_left 

false


  set_button go_front 

false


  set_button go_right 

false


  

"%{player.name} turns %{player.direction}."


  var randomChance 

(

random

 

1

 

5

)


  run enter_and_process_room

random_pattern

:


  

return

 

(

random_from_args 

"F"

 

"FL"

 

"FR"

 

"LR"

 

"FRL"

)



random_battle

:


  

play

 

music

 battle
  

set

 battle

.

attackedLast undefined
  run start_level
  set_button 

$

player

.

class

 

true


  run random_enemy
  

"Suddenly, a %{enemy.name} appears!"


  

jump

 battle

battle_end

:


  

stop

 

music


  log 

$

battle

.

result
  set_button 

$

enemy

.

name

 

false


  set_button 

$

player

.

class

 

false


  

if

 

(

==

 

$

battle

.

result 

"won"

)

:


    

add

 victories 

1


    

"You defeated %{enemy.name}!"


    

if

 

(

>=

 

$

victories 

$

best_victories

)


      

set

 best_victories 

$

victories
    run show_room
  

else

:


    set_screen rpg
    

"You were defeated by %{enemy.name}! after %{victories} victories. Your best record is %{best_victories} victories."


    

choice

:


      

"Restart?"


      

"Yes"

:


        

jump

 start_rpg
      

"No"

:


        

"Game over."



start_level

:


  var level 

(

random_from_args 

"grass"

 

"cave"

 

"dungeon"

)


  set_screen 

(

concat 

"battle_"

 

$

level

)




random_enemy

:


  

set

 enemy

.

name

 

(

random_from_args 

"goblin"

 

"slime"

 

"skeleton"

)


  set_button 

$

enemy

.

name

 

true


  

set

 enemy

.

hp 

(

random

 

2

 

10

)


  

set

 enemy

.

str 

(

random

 

2

 

5

)


  

set

 enemy

.

def

 

(

random

 

1

 

3

)


  

set

 enemy

.

spd 

(

random

 

1

 

3

)



choose_class

:


  

choice

:


    

"Pick a class"


    

"Wizard"

:


      

set

 player

.

class

 wizard
      

set

 player

.

maxHp 

30


      

set

 player

.

maxMp 

60


      

set

 player

.

def

 

1


      

set

 player

.

spd 

1


      set_level strength 

1


      set_level agility 

2


      set_level intelligence 

3


    

"Warrior"

:


      

set

 player

.

class

 warrior
      

set

 player

.

def

 

3


      

set

 player

.

maxHp 

100


      

set

 player

.

maxMp 

15


      

set

 player

.

spd 

2


      set_level strength 

3


      set_level agility 

2


      set_level intelligence 

1


    

"Rogue"

:


      

set

 player

.

class

 rogue
      

set

 player

.

maxHp 

50


      

set

 player

.

maxMp 

30


      

set

 player

.

def

 

2


      

set

 player

.

spd 

3


      set_level strength 

2


      set_level agility 

3


      set_level intelligence 

1


  set_button 

$

player

.

class

 

true


  

"Your stats: %{stats.hp.value} HP, %{stats.mp.value} MP <br /> %{skills.strength.level} strength, %{skills.agility.level} agility, %{skills.intelligence.level} intelligence <br /> Defence: %{player.def}, Speed: %{player.spd}"



battle

:


  run get_attacker
  log 

$

battle

.

attacker
  

if

 

(

==

 

$

battle

.

attacker 

"player"

)


    run process_combat_options
  

else

:


    run enemy_attack
  

if

 

(

<=

 

(

get_stat_value hp

)

 

0

)

:


    

set

 battle

.

result 

"lost"


  

else

:


    

if

 

(

<=

 

$

enemy

.

hp 

0

)

:


      

set

 battle

.

result 

"won"


    

else

:


      run tick
      

jump

 battle
  

jump

 battle_end

get_attacker

:


  log 

$

battle

.

attackedLast
  

if

 

(

==

 

$

battle

.

attackedLast undefined

)

:


    

if

 

(

>

 

$

player

.

spd 

$

enemy

.

spd

)

:


      

"%{player.name} attacks first!"


      

set

 battle

.

attackedLast 

"player"


      

set

 battle

.

attacker 

"player"


    

else

:


      

"%{enemy.name} attacks first!"


      

set

 battle

.

attackedLast 

"enemy"


      

set

 battle

.

attacker 

"enemy"


  

else

:


    

if

 

(

==

 

$

battle

.

attackedLast 

"player"

)

:


      

set

 battle

.

attackedLast 

"enemy"


      

set

 battle

.

attacker 

"enemy"


    

else

:


      

set

 battle

.

attackedLast 

"player"


      

set

 battle

.

attacker 

"player"



process_combat_options

:


  

if

 

(

==

 

$

player

.

class

 warrior

)

:


    

return

 

(

run warrior_combat

)


  

if

 

(

==

 

$

player

.

class

 wizard

)

:


    

return

 

(

run wizard_combat

)


  

if

 

(

==

 

$

player

.

class

 rogue

)

:


    

return

 

(

run rogue_combat

)



warrior_combat

:


  

choice

:


    

"Choose an action"


    

"Attack"

:


      

return

 

(

run attack

)


    

"Whirlwind (%{spells.whirlwind.cost} MP)"

 

if

 

(

>=

 

(

get_stat_value mp

)

 

$

spells

.

whirlwind

.

cost

)

:


      

return

 

(

run whirlwind

)



rogue_combat

:


  

choice

:


    

"Choose an action"


    

"Attack"

:


      

return

 

(

run attack

)



wizard_combat

:


  

choice

:


    

"Choose an action"


    

"Attack"

:


      

return

 

(

run attack

)


    

"Fireball (%{spells.fireball.cost} MP)"

 

if

 

(

>=

 

(

get_stat_value mp

)

 

$

spells

.

fireball

.

cost

)

:


      

return

 

(

run fireball

)


    

"Heal (%{spells.heal.cost} MP)"

 

if

 

(

>=

 

(

get_stat_value mp

)

 

$

spells

.

heal

.

cost

)

:


      

return

 

(

run heal

)



attack

:


  var damage 

(

+

 

1

 

$

skills

.

strength

.

level

)


  run process_hit_on_monster 

$

damage 

$

enemy
  add_xp strength 

1



fireball

:


  var damage 

(

*

 

3

 

(

get_level intelligence

)

)


  run process_hit_on_monster 

$

damage 

$

enemy
  add_xp intelligence 

3


  add_stat mp 

(

neg 

$

spells

.

fireball

.

cost

)



heal

:


  var heal 

(

*

 

2

 

(

get_level intelligence

)

)


  add_stat hp 

$

heal
  add_xp intelligence 

3


  add_stat mp 

(

neg 

$

spells

.

heal

.

cost

)


  set_stat hp 

(

min 

(

get_stat_value hp

)

 

$

player

.

maxHp

)


  

"%{player.name} healed for %{heal} HP!"



whirlwind

:


  var damage 

(

*

 

3

 

(

get_level strength

)

)


  run process_hit_on_monster 

$

damage 

$

enemy
  add_stat mp 

(

neg 

$

spells

.

whirlwind

.

cost

)


  add_xp strength 

3



enemy_attack

:


  var damage 

(

+

 

1

 

$

enemy

.

str

)


  run process_hit_on_player 

$

damage

process_hit_on_monster damage enemy

:


  var final_dmg 

(

run calculate_defenses 

$

damage 

$

enemy

.

def

)


  

add

 enemy

.

hp 

(

neg 

$

final_dmg

)


  

"The %{enemy.name} takes %{final_dmg} damage!"



process_hit_on_player damage

:


  var final_dmg 

(

run calculate_defenses 

$

damage 

$

player

.

def

)


  add_stat hp 

(

neg 

$

final_dmg

)


  

"%{player.name} takes %{final_dmg} damage!"



calculate_defenses damage 

def

:


  

return

 

(

max 

0

 

(

-

 

$

damage 

$

def

)

)



tick

:


  

if

 

(

==

 

$

player

.

class

 

"wizard"

)

:


    add_stat mp 

5


  

if

 

(

==

 

$

player

.

class

 

"warrior"

)

:


    add_stat mp 

1


  

if

 

(

==

 

$

player

.

class

 

"rogue"

)

:


    add_stat mp 

2
---